♡ London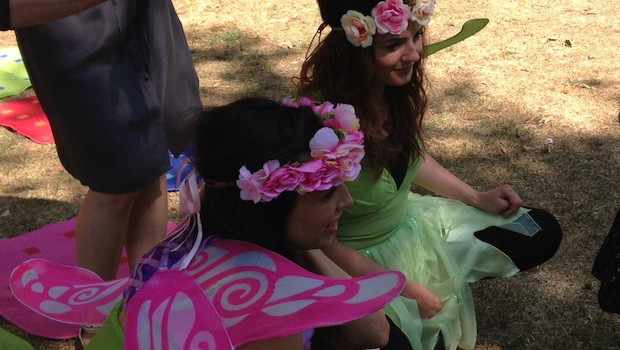 Published on August 25th, 2015 | 546 Views
0
3 top fairy birthday entertainers in London
The Giggle Company
When Baby Girl last went to a fairy-themed birthday party, there were two entertainers in fairy costumes from The Giggle Company (see picture above), who did a brilliant job at entertaining a group of three-year-olds. They did glitter tattoos when the little ones first arrived, and I was impressed with the number of props they had brought for the party activities, which seemed fun for both boys and girls. Partygoers were sitting in a circle doing everything from pretending to bake to watching one of the fairies struggling to keep her balance when walking on the parachute they were holding and making them giggle again and again. The Giggle Company offers one-hour entertainment with two entertainers for £195.
Fairytale Friends
Fairy Blossom from Fairytale Friends, who runs weekly fairy feet dance classes in Battersea, wears an impressive purple fairy costume and is a charming and happy fairy. A fairy birthday party with Fairy Blossom can include fairy training with wings and wands, fun games, singing, dancing and more, and when we attended a fairy summer workshop with Fairy Blossom, Baby Girl had a fantastic time and I thought the session was really well-organised, including a range of varied and entertaining activities. A one-hour fairy birthday with Fairy Blossom starts from £150. 
Jems Fairies
I've met a fairy from Jems Fairies at a meet-up with Babysitters of Kensington and Chelsea in the past, and although Baby Girl was only little at the time, she was fascinated with the fairy's costume. The fairy was also a good face painter, and I remember thinking she would have made an excellent birthday entertainer since she came across as a charismatic and likeable fairy. A birthday party with Jems Fairies can include party games, including parachute games, magic, dancing, storytelling and more. Jems Fairies offers birthday party entertainment starting from £180.