Growing up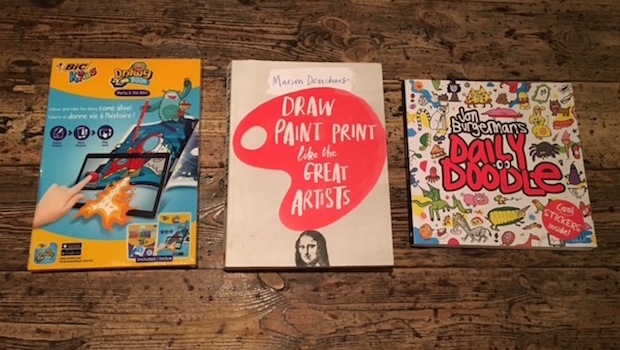 Published on July 9th, 2017 | 319 Views
0
5 things to get kids creative this summer
1. Book an art experience
Families can enjoy free drawing sessions with Cadbury Dairy Milk Buttons this summer. On 22 and 23 July Cadbury is hosting 'Little Pi-Cow-So Sessions' at the Barbican Centre, where families can enjoy drawing classes and meet Buttons, the impressive eight foot animatronic Cadbury cow. The session will be led by renowned artist Rose Blake, and attendees will learn how to sketch Buttons during a life drawing class and pose for pictures with the friendly cow. Families will also get to sample delicious Cadbury Dairy Milk Buttons and leave with a fun-filled goodie bag so they can continue to channel their artists within at home. For full information and to book free tickets see HERE
Children who love arts and crafts may also enjoy the summer workshops at Kite Studios in Brook Green for children aged 4 and over, and it's also possible to book one-to-one clay sessions for children and adults at Kite Studios. In Battersea, I've collaborated with the welcoming Battersea pottery studio Sammy Duder for several years, and children of different ages will enjoy painting pottery at Sammy Duder. Parents with babies who want to create memories to treasure will also like the options to make special keepsakes like silver jewellery or clay imprints.
2. Learn to draw with books and art sets
When Big Boy had a nap today I found myself wanting to sit down and draw. I had received a review copy of Jon Burgerman's Daily Doodle (Laurence King, £12.95), coming out on 7 August, and the 112-page book is filled with more than 100 fun ideas for how to doodle anything from an ice cream van to an alien. It's the type of book that looks like it can put a smile on anyone's face, and I could see Big Girl (or myself) sitting with it for hours and doodling the different things in the book. For ideas for how to draw different things, I've also loved the Djeco Learn to Draw Step by Step cards, which Big Girl received as a present from a friend, and for school-age children I like the book Draw Paint Print like the Great Artists by Marion Deuchars (Laurence King, £12.95), which explores different techniques adopted by famous artists and helps make learning about art fun.
3. Go digital
When I met up with BIC Kids the other week, I heard their range included an interactive colouring set–Drawy Book–that lets children colour pages on paper and then make the pages come alive by scanning them on a tablet and playing the story. We received one to try and the cool set, designed for children aged over 5, comes with a drawing book that looks a bit like a cartoon as well as a set of 12 felt pens. There's an app that can be downloaded for free, and this app is used for scanning the pages and then playing it. Original and fun for a slightly techie summer art project!
4. Place an art easel for kids outside
When I had an opportunity to suggest presents from grandparents for two-year-old Big Boy for his last birthday, an easel was one of the items at the top of my list. He received the wooden standing Melissa and Doug Art Easel, which we use in the garden, and it has been a present enjoyed by both him, Big Girl and friends visiting. Perfect for use in the garden on warm summer days! (Before the art easel I used to stick paper to the play house wall, which also worked)
5. Try paint sticks
For parents who want to avoid paint dripping on the floor or on the grass, the Little Brian Paint Sticks are worth a try. The sticks look like round, chunky crayons and I first saw them at the Toy Fair in January. We received a yellow to try, and Big Girl has been painting large shapes, such as big yellow suns, with the stick. In my view, they are fun and mess-free to paint with for young children who may not be using a thin brush for small details anyway.
To help inspire imagination, check out the Fuzzy Felt Paw Patrol review HERE