♡ London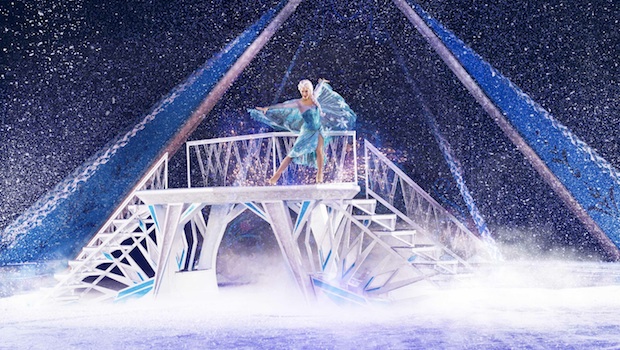 Published on November 3rd, 2016 | 735 Views
0
A guide to family shows in London Christmas 2016
Disney on Ice at The O2
This Christmas Disney on Ice presents Frozen at The O2, bringing the full story from the Disney production live on stage with special effects, impressive skating and catchy songs. The show, running at The O2 from 21 to 30 December, will be hosted by Mickey and Minnie and feature special appearances by other Disney princesses and popular characters.
Christmas Festival at Royal Albert Hall
To get in the spirit of Christmas, head to the Royal Albert Hall, which starts its Christmas Festival on 6 December. Families can enjoy Christmas Carol Singalong led by musician Jonathan Cohen, who is known for earlier work on BBC children's programmes. The singalong, running six times between 15 and 23 December, will feature festive songs like Jingle Bells and Santa Claus is Coming to Town as well as Let It Go. There is also the opportunity to meet Father Christmas at Royal Albert Hall, an event I'm looking forward to reviewing this year. As part of the adventure, little ones get to help a Victorian Doorkeeper solve puzzles to find the key to Father Christmas's Grotto.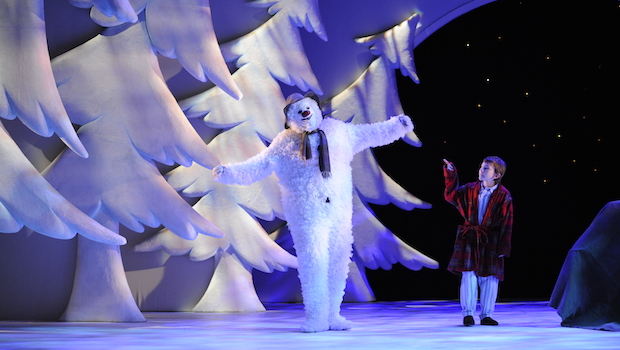 The Snowman at The Peacock
The Snowman returns to The Peacock for its 19th consecutive year later this month. Based on the book by Raymond Briggs and the film directed by Dianne Jackson and produced by John Coates, the wintery stage show tells the story of a boy and his magical snowman. I know many London families go see The Snowman every year, and I'm looking forward to taking Big Girl to review it this year. It is playing from 23 November 2016 to 1 January 2017.
Mr Popper's Penguins at Criterion Theatre
Mr Popper's Penguins, will make its West End debut at Criterion Theatre on 15 December after a UK tour and New York City season. The family show, a musical adaptation of Richard and Florence Atwater's book, features performing penguin puppets, and Mummy in the City is currently running a competition where one lucky reader will win a family ticket to the show. See more HERE.
We're Going on a Bear Hunt and The Snowman at Cadogan Hall
As part of Christmas at Cadogan Hall, families can enjoy a festive treat at this Sloane Square venue on 17 December, joining the Orchestra of St Paul's for an interactive retelling of We're Going on a Bear Hunt–with music by Ian Stephens– followed by a screening of The Snowman, shown on the big screen with live orchestra.
Father Christmas and Paddington Bear's First Concert at Cadogan Hall
On 22 December, Cadogan Hall will present another magical family event, featuring a screening of Raymond Briggs' Father Christmas, the narrate of Paddington Bear's First Concert presented by comedian Jack Dee and a short medley of tunes from Frozen. There will be live orchestral accompaniment by Mozart Symphony Orchestra to the film screening, and Jack Dee will appear live on stage to narrate Paddington's journey from Peru to his first ever concert at Cadogan Hall.
The Wind in the Willows at Rose Theatre Kingston
Based on the children's classic by Kenneth Grahame, The Wind in the Willows tells a story of friendship and courage, with Mole setting out on an adventure and meeting new friends Ratty, Badger and Toad. The festive production will be playing at Rose Theatre from 6 December to 3 January.
Raymond Briggs' Father Christmas at Lyric Hammersmith
Raymond Briggs' classic Father Christmas is in its fourth year at Lyric Hammersmith this year. The show designed for children aged under 6 stays true to the children's book, and the grumpy Father Christmas uses the same language as in the book, constantly complaining. I think the intimate venue, live music and sounds, and wonderful stage set-up makes this a great show for introducing children to the magic of Father Christmas and the job he does on Christmas Eve. The show is playing at Lyric Hammersmith from 18 November to 24 December. 
Disney's Aladdin at Prince Edward Theatre
Disney's new Broadway musical Aladdin hit West End in May, and it's one of the West End musicals I would love to take Big Girl to see. The musical based on the Disney animation about Aladdin and Princess Jasmine continues to delight audiences at Prince Edward Theatre, and I've heard friends who have booked tickets as a family Christmas treat.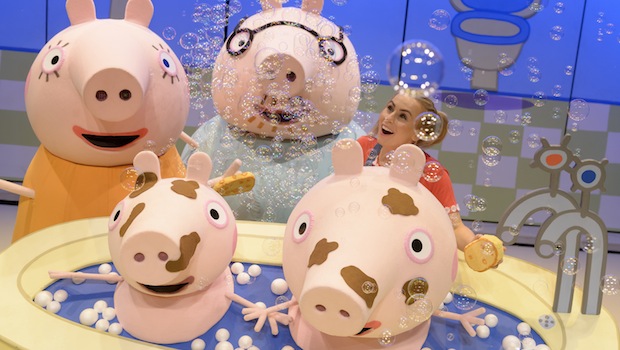 Peppa Pig's Surprise at Phoenix Theatre
Peppa Pig is back on the West End this Christmas with Peppa Pig's Surprise, which features plenty of audience interaction, songs, special effects and larger puppets than the previous live show. We went to review the show last year, and loved the new puppets, giant-sized Mummy and Daddy Pig puppets and the Peppa and friends puppets that are large enough for actors to duck down and hide behind them when possible. Peppa Pig's Surprise is sure to delight a young audience again this Christmas when it will be playing at Phoenix Theatre from 15 December to 7 January.
Matilda The Musical at Cambridge Theatre
Based on Roald Dahl's children's book, Matilda tells the story about the incredible five-year-old school girl. The musical, which hit West End in 2011, has received more Olivier awards in one year than any other musical and continues to delight audiences at the Cambridge Theatre.
Stick Man at Leicester Square Theatre
Popular children's picture book Stick Man by Julia Donaldson and Axel Scheffler is brought to life in the Stick Man stage show, now touring in the UK and arriving in London's West End on 5 November. The show, recommended for children aged 3 and over, will be playing at Leicester Square Theatre until 30 December.

Disney's Lion King at Lyceum Theatre
Award-winning Disney's Lion King based on the Disney animation is in it's 17th year at Lyceum Theatre, and continues to wow audiences with a beautiful and entertaining production. I remember being impressed by the spectacular animal costumes, which is one of the reasons I think the musical could be fun for younger theatre goers too. 
How to Hide a Lion at Polka Theatre
At children's theatre Polka Theatre in Wimbledon, How to Hide a Lion, which is recommended for children aged three to six, is playing until 26 February. Based on the book by Helen Stephens, the show tells the funny story of Iris who tries to hide a lion in her house without her parents noticing. Polka Theatre also has a shorter How to Hide a Lion toddler version, and this show will be playing from 12 November to 14 February. 

Babe, The Sheep-Pig at Polka Theatre
Polka Theatre also presents Babe, The Sheep-Pig, which brings the classic children's novel and Oscar-winning family film alive. The show tells the story of a little pig with big dreams, arriving at a new farm and taken in by a trusty sheep dog. Babe, The Sheep-Pig is recommended for children aged 5 to 11, but younger children are welcome to the VIP performance on 10 December.
Cinderella at London Palladium
Pantomime returns to the West End's London Palladium this Christmas with the magical fairy tale about Cinderella. The pantomime will be playing from 10 December 2016 to 15 January 2017.
Charlie and the Chocolate Factory at Royal Drury Lane
Roald Dahl classic Charlie and the Chocolate Factory premiered on West End in 2013 and is now in its final year in London, so Christmas 2016 will be one of the last opportunities to see the musical on West End for now. It tells the dark story about Charlie and his grandfather visiting Willy Wonka's Chocolate Factory after winning a golden ticket. 
The Very Hungry Caterpillar Show at Ambassadors Theatre
The stage show based on Eric Carle children's classics The Very Hungry Caterpillar Show is coming to West End for a limited season for Christmas following a sell-out, extended run Off-Broadway. The show, which will be playing at the Ambassadors Theatre from 2 December, brings four Eric Carle stories to life–The Artist Who Painted a Blue Horse, Mister Seahorse, The Very Lonely Firefly and The Very Hungry Caterpillar–in a 60-minute performance with 75 puppets.
The Gruffalo at Lyric Theatre
The stage adaptation of popular Julia Donaldson and Axel Scheffler children's book The Gruffalo, which celebrates 15 years on stage this year, returned to Lyric Theatre on West End in the summer and is continuing until 16 January 2017.
Boing! at Unicorn Theatre
At children's theatre The Unicorn dance-theatre Boing! will be capturing the magic of Christmas Eve and the excitement of two boys waiting for Father Christmas. The show, aimed at children aged 2 to 6, will be playing at The Unicorn from 30 November to 1 January.
Peter Pan at National Theatre
The National Theatre's family Christmas production this year is an inventive version of JM Barrie's Peter Pan. The show tells the story of Peter Pan, the leader of the Lost Boys, who loses his shadow during a visit to London and is helped by Wendy who is invited to Neverland in return. The show will be playing from 17 November to 26 December at Olivier Theatre and is recommended for children aged 7 and over.
Aladdin at Lyric Hammersmith 
A festive and fun version of Aladdin will be playing at Lyric Hammersmith from 19 November to 7 January. The traditional pantomime is recommended for children aged 6 and over
Wicked at Apollo Victoria
Wicked, which celebrated its 10th birthday celebration performance on West End in September, is based on the Gregory Maguire novel 'Wicked: The Life and Times of the Wicked Witch of the West', which re-imagined the Land of Oz and created a new version of L. Frank Baum's 1900 classic  'The Wonderful Wizard of Oz'. The hit musical, which is playing at Apollo Victoria, celebrated its tenth year on Broadway three years ago. We took Big Girl to see it in August, and it was not as scary as I'd expected and we were impressed with the stage.