Growing up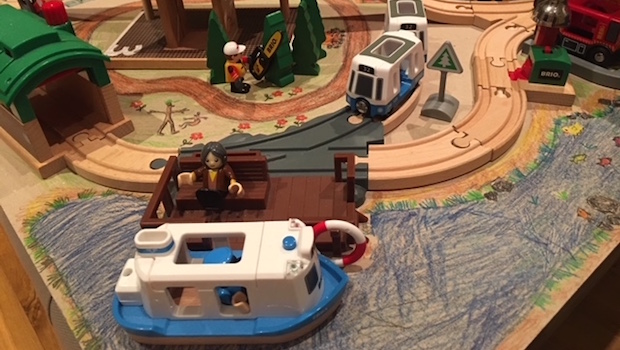 Published on January 7th, 2018 | 99 Views
0
Creating a homemade table for wooden railway set
When we first became parents we tried to limit the amount of toys in the living room and we tried to steer clear of large toys in bright colours that didn't go with the interior. Fast forward five years and our TV room looks like a play room.
It's become all about ensuring the children are entertained, and today what was once an ottoman became a toy village for the wooden railway set. I went to art supplies shop Perry's on Fulham Road to buy a large piece of card – two A1-size greyboard – and Grandma N led a group illustration project at home.
We designed a new train track with Big Boy's BRIO train set, and placed it on top of the greyboard, which is now on top of the ottoman. With lots of help from the talented Grandma N, we used the huge now A0-size greyboard and drew things the children have previously had to pretend were around the train tracks–and things we came up with along the way. It started with the water outside the BRIO Travel Ferry docking station, helipad for the new BRIO police helicopter and more grass outside the BRIO Summer House, which we've split in two to ensure both children have their own house.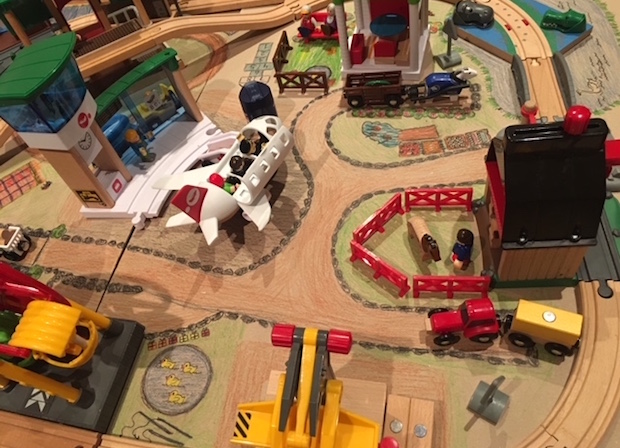 We carried on by adding a Hook-a-Duck pool next to the BRIO Ferris Wheel, a mini farmer's market outside a house, a carrot patch outside the BRIO Farm, parking spaces, hopscotch court, some of our favourite children's book characters, and much more.
The children have had so much fun creating their own village with their grandma, and I'm now planning to stick some of the BRIO items onto the card with double-sided tape to ensure everything stays in place for a little while.
My only concern is that we'll have an early start tomorrow. Someone is extremely excited about getting up and playing with their new bespoke village.