Growing up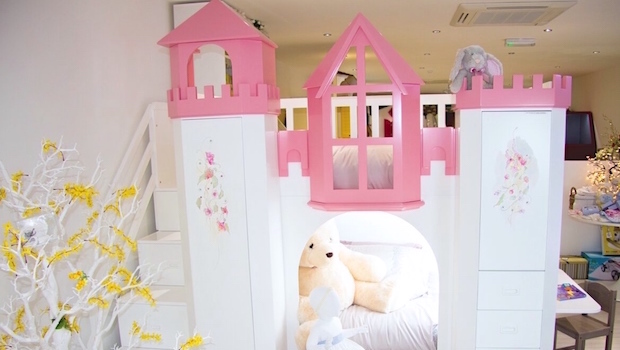 Published on December 30th, 2016 | 564 Views
0
Top tips for transforming children's rooms with MiSueños Kids
When I started searching for children's beds last year, I was initially looking for something plain and simple. But my requirements soon changed. I wanted Big Girl to have a special bed–a bed that I would have loved having as a child.
I think many parents feel the same as us, and it was inspiring to see a beautifully made top-end bed from MiSueños Kids on display at a Hamley's event earlier this year.
MiSueños Kids is all about children's fantasy bedrooms, designing beds and rooms to fuel imagination. Amanda Gama, director and founder of MiSueños Kids, shares more about her passion for children's bedroom designs here:
Tine: What are your best tips for transforming a kids bedroom?
Amanda: – The most important is involving your child in the design process, so that they feel it is their room
– It is important to analyse the space, make a list of must haves like storage, study area, relaxing and sleeping area
– Storage is always a must-have, and all our designs incorporate as much storage as possible. You can never have enough storage
– Can any furniture be reused by a simple lacquer or paint or changing the handles? At MiSueños Kids we are a big fan of reinventing existing furniture. This will help keep costs down
– Try to keep semi-permanent and permanent features like walls, bed, storage units as neutral as possible to extend the lifespan. I try to steer my clients towards more pastel or neutral colours to brighten a room to make it feel clean and cool and ensure greater longevity
– Colours are great, but it has to be said that some colours can help influence mood and behaviour and can stimulate the brain and body of a child. Remember you are designing a bedroom, and it needs to be relaxing and kids change their mind all the time, so we advise our clients to add colour in soft furnishings, as they can be regularly changed and relatively inexpensive
Tine: What is most important for you when designing kids fantasy beds?
Amanda: It goes without saying, that the safety of any child is paramount to us. That is why our designs fully explore and consider your child's needs, routine and environment. We pride ourselves on creating the highest quality pieces of furniture – offering impeccable style and unique beauty, which is completely personal.
A child's bedroom should reflect them. At MiSueños Kids we work together on what would make your child's bedroom become their sanctuary–a peaceful place to dream, play, relax–a place to  retreat to, where a child can feel assured that the people who love them are nearby. The bedroom is the first real permanent place that they can influence, which is why we involve them throughout the design process. Giving your kids the opportunity to help design a bedroom that is personal to them can be hugely important to their development.
Tine: What is your bestselling bed?
Amanda: All our designs are equally popular from Castle bunk bed to the Verano Playhouse, but as we offer the service of customisation most clients want something unique. But one particular issue that always seems to arise is children not sleeping in their own room. We all know of many parents and families who find night time extremely difficult and challenging. We know that children who sleep on their own are in the best position to harness and develop self-soothing skills and their own sense of independence. Creating this room can be beneficial to both parents and child as the parent get the much-deserved rest they need. At MiSueños Kids we try to help both parent and child whether it be storage or sleeping issues.
The picture at the top shows the Fairytale Castle Bunk Bed from MiSueños Kids (price available upon request)