Pregnancy
Published on November 14th, 2016 | 1996 Views
0
Motorola launches intelligent and interactive Smart Nursery baby products
When we visited some friends the other day they spoke to a robot on a shelf to change the volume of the music in the kitchen. The world of technology is moving so fast it's difficult to keep up for someone like me who find instruction leaflets extremely tedious and still haven't gotten around to opening a techie clock we received in winter.
I do get impressed by new technology, however, and the baby gadgets I've had on my radar now are from Motorola. We went to the launch of Motorola's Smart Nursery range at John Lewis on Oxford Street and were excited to see the new products designed to offer connected baby care from anywhere.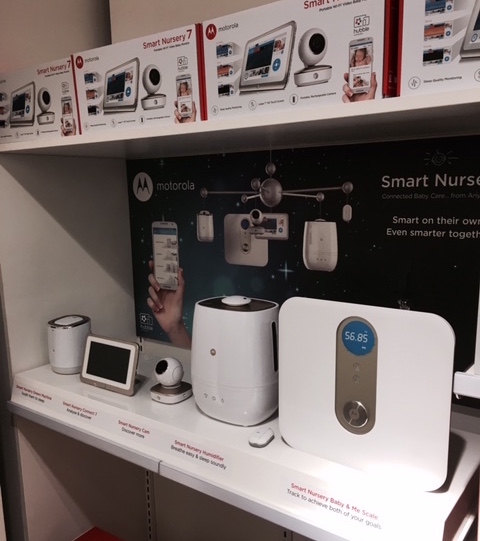 Products in the new hi-tech range, which is now exclusively available from John Lewis in the UK, includes a portable wifi video baby monitor with a 7-inch touch screen; an alert sensor to place on doors or windows; a family scale; a humidifier; and a dream machine with a sound and light show projector. They all come with the Hubble Connect app and are compatible with iOS and Android for intelligent and interactive baby monitoring.
We received the scale to try, and it's one I wish I'd had when I had babies and wanted to monitor weight gains on a regular basis. I did consider buying a baby scale at that point, but I knew it would only be useful for a short period.
The new Smart Nursery Baby & Me Scale stands out because it's much longer lasting, and is simply a cool digital alternative to any other bathroom scale. It's not just for baby, but can be used by the entire family.
The scale features two settings–one for weighting when holding a baby and one for weighing one person–and by downloading the Hubble Connect for Smart Nursery app parents can use the scale to track growth and development.
I'm not surprised the range won the Kind + Jugend 2016 Innovation Award in the World of Kids Safety category, and when I'm next asked for opinions on baby video monitors I would recommend friends to check out the Smart Nursery Connect 7 from Motorola, featuring the market's first rechargeable camera and a parent unit resembling a tablet.