Mummy-time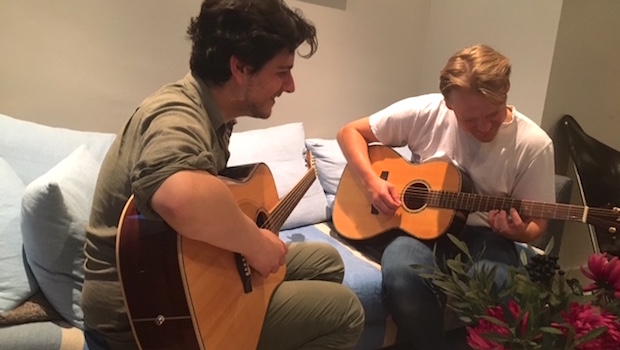 Published on May 15th, 2017 | 572 Views
0
When dad starts taking private guitar lessons
This evening I've been working away on my computer enjoying guitar music from the floor above. Daddy T has had his first ever guitar lesson–a much overdue event considering the fact that he's been the proud owner of a cupboard full of guitar equipment, including two guitars.
Four years ago he bought both an electric guitar and an acoustic guitar, claiming he was going to take lessons and learn how to play on them.
Since this hasn't exactly happened, I was thrilled to be invited to try a guitar lesson with guitar tutor Laurent Shinar, a London musician and songwriter who aims to bring the fun-factor to guitar tuition. Laurent teaches both children and adults to play, and aims to ensure his lessons are entertaining and tailored to ensure progression.
Daddy T was excited to hear I'd arranged the private guitar lesson for him to review, and went on a search for his guitar as soon as he returned home from work at 8pm today.
The guitar has practically not been taken out of its sleeve since he bought it, and the vision of us having this super musical family where Daddy T would rock up with some fun tunes on the weekends has not really gone as planned.
Today, however, he learnt how to play a few tunes, and he continued practising even after Laurent had left our house. He enjoyed learning to play guitar and the experience so much that he's already booked four more lessons with Laurent.
I think it's easy to forget about our own interests when having young children, but private guitar lessons is something that works with our lifestyle when it can be done in the evenings. Despite being busy, we always appreciate the days we can switch off from everyday life by doing something different and learning new skills.
A 1-hour guitar lesson with Laurent Shinar is £30, and he's currently offering new students 4 lessons for the price of 3