Reviews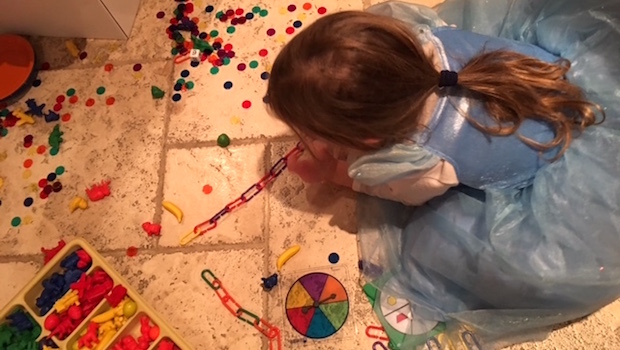 Published on May 1st, 2017 | 475 Views
0
Review: The Original Super Sorting Set from Learning Resources for counting and early maths skills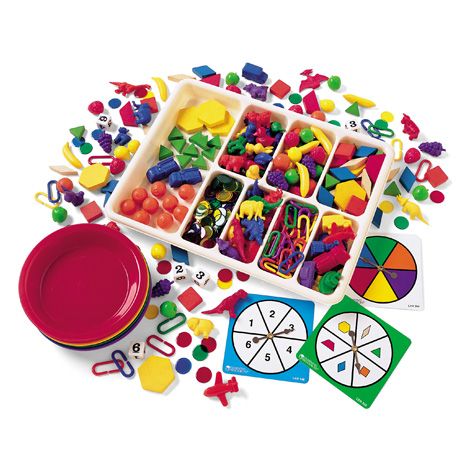 'Pretend it's Mother's Day!'
'Pretend Teddy is sleeping!'
'Pretend that's the home corner!'
Four-year-old Big Girl was very excited that we could play together in peace and quiet today while Baby Boy was napping. She had decided we were going to play that Teddy and a Shopkins doll went to boarding school, and I had been put in charge of setting up different areas in the class room.
It made for the perfect opportunity to pull out The Original Super Sorting Set (£52.90) we'd received from Learning Resources to review, which comes with hundreds of bright coloured counters that look a bit like erasers. There are dinosaurs, fruits, vehicles and animals, as well as shapes, links and transparent counters.
We used the fruit to make a pretend food hall area today, the animals for a home corner with pretend cuddly animals, and the links for a 'necklace-making' table where Teddy and the Shopkins doll could make Mother's Day presents.
This is perhaps not how The Original Super Sorting Set is most commonly used, as it is ideal for reinforcing early maths skills, but I've had to be creative to avoid interfering with what Big Girl usually wants us to play, which is some type of pretend play. When it makes sense to do so, I try to incorporate a bit of maths by using the counters and asking Big Girl questions that fit in with the role play.
When we played boarding school, for example, Teddy and the Shopkins doll made patterned jewellery and they added up the fruits in the food hall. They also counted 100 animals in the set and 35 cars, planes, trains and boats. I've done similar things when we've played with Barbie dolls or baby dolls, and I love the fact that we can use the set for pretend play and not only for games.
The Original Super Sorting Set comes with three spinners, dices and lots of suggestions for activities that can help develop early maths skills. There's so much to do with this set that I've been incredibly impressed with the endless opportunities.
The set also comes across as being very long lasting if parents get it for a preschooler. For younger children it could be used for learning colours, sorting and starting to count.
The benefit is that–unlike some smaller play sets–it doesn't stop being a useful play set after this first stage. Children can count hundreds of pieces, and the large number of pieces is also practical for talking about subtraction and addition–even with bigger numbers.
The key is not to lose the 600+ pieces in the set though. They don't all fit in the sorting tray at the same time, and some can be stored in the extra plastic bags and sorting bowls included in the box. I wish the main tray had been bigger for storage purposes, but I keep it all together in a cupboard and I see it as a toy that the children use when I'm playing with them.
The challenge is only to find time to do everything that I think would be fantastic to do together with my children. I wish there were more bank holidays!