Reviews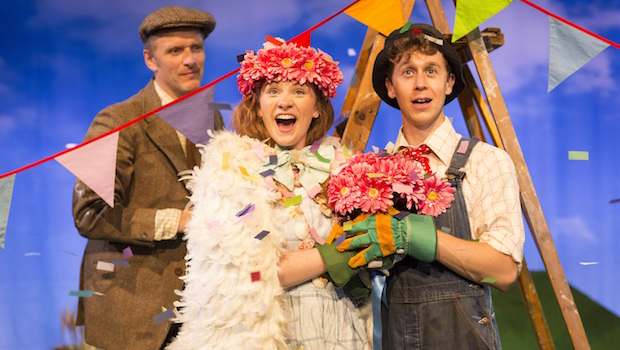 Published on June 24th, 2017 | 414 Views
0
Review: The Scarecrows' Wedding for a feel-good children's theatre show
Yesterday Baby Boy was back in the theatre shouting: "Again Again."
This time it was The Scarecrows' Wedding he would like to watch on repeat. We had been invited to see the show at Rose Theatre in Kingston, and the lively stage adaptation of the  popular children's book by Julia Donaldson and Axel Scheffler was a real feel-good hit.
The show tells the story of the scarecrows Betty O'Barley and Harry O'Hay who decide to get married and write a list of all the things they need for the wedding. They then go on a search to find wedding essentials, like a dress of white feathers and bells. When Harry goes away to search for flowers the farmer notices that there's only one scarecrow on his field and gets a replacement for Harry, who tries to win Betty over too.
The Scarecrows' Wedding live show by Scamp Theatre, the producers of Stick Man live and other children's productions too, is witty and the lively show features music and catchy songs. In fact, I was practically humming about "the best wedding ever, the best wedding yet" when we were out yesterday evening too, and thinking about how enthusiastically my little one 'mooed' when the audience had to pretend to be cows keeps making me smile. I think The Scarecrows' Wedding is sure to be a hit with children who love playing weddings themselves, and as with all shows aimed at a young audience it can be useful to ensure they are familiar with the story before going. In the case of this show, there are also downloadable activity sheets on the Scamp Theatre website that even feature one of the songs.
A happy family summer show!
The Scarecrows' Wedding is on tour in the UK until the end of August, and it is playing at Rose Theatre in Kingston this weekend.
The picture above is courtesy of Helen Maybanks