Reviews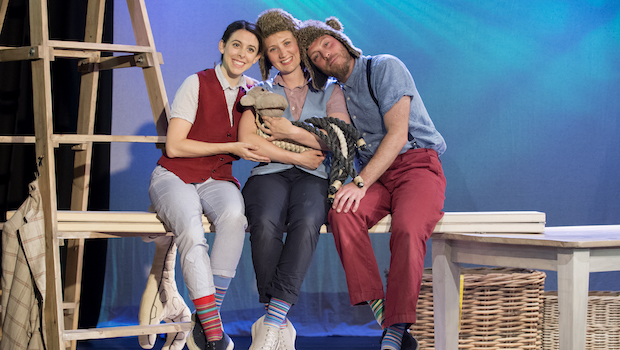 Published on July 20th, 2017 | 373 Views
0
Review: Tiddler and Other Tales brings Julia Donaldson books to life
When I really should have been packing to go on holiday last week, I was searching through the children's book collection instead. We were going to Leicester Square to watch Tiddler and Other Tales  and I was desperately trying to find a book to bring in the taxi to get us ready for the show–A Squash and a Squeeze by Julia Donaldson and Axel Scheffler.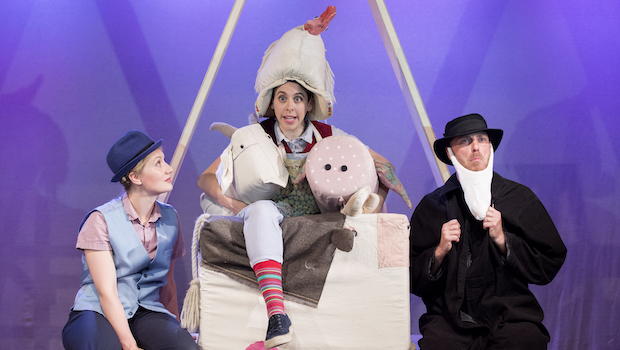 The sweet book always makes us smile, and that's one of the reasons we were excited to have been invited to review Tiddler and Other Tales by Freckle Productions, which weaves together this and three other popular Julia Donaldson and Axel Scheffler stories. The lively, musical show includes: Tiddler, Monkey Puzzle, The Smartest Giant in Town and A Squash and a Squeeze.
All the stories are brought to life, with the three actors keeping the audience entertained with high energy and upbeat tunes. My favourite section was when the story about the little fish Tiddler was on, as the set then seemed colourful and the fish puppets were beautiful. The Tiddler section also features shadow puppetry, and the combination of the charming puppets and the way the sea was displayed on the screen behind with a shark as a shadow made Tiddler a real highlight or me.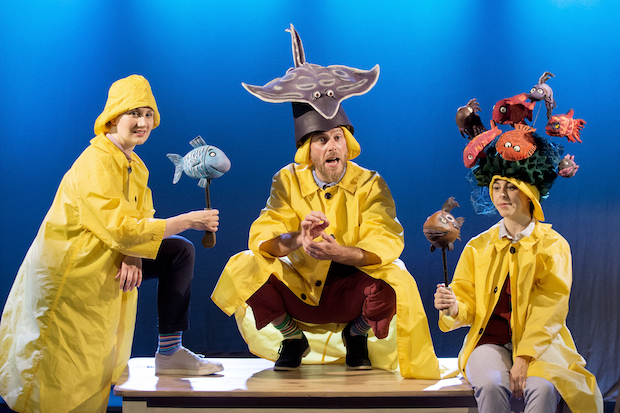 The other stories are cleverly brought to life with more basic props–including some that almost reminded me of cool Scandinavian-style toys or kids decor items like animal cushions for A Squash and a Squeeze and a monkey made with rope legs as the main character in Monkey Puzzle.
The show is recommended for ages 3 and over, and young theatre-goers will enjoy the audience interaction in the section relating to the monkey–the Monkey Puzzle story about monkey looking for mummy. Little ones were shouting out instructions for the actors, trying to help find monkey at the end when Monkey Puzzle completes the sweet show.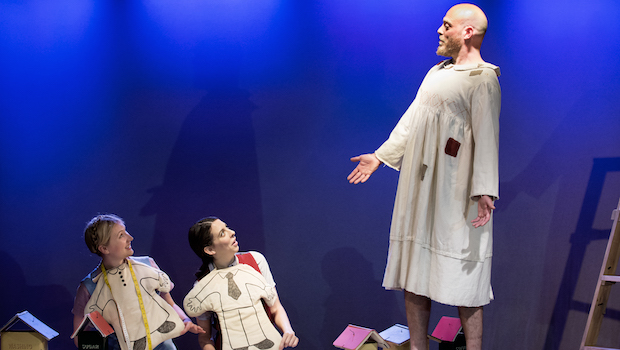 Tiddler and Other Tales is running at Leicester Square Theatre until 3 September, and although the basement venue struck me as ideal for evening entertainment with loud music and a bar, I liked that the theatre had cushions for little ones to sit on to make it easier to see the stage and the staff were friendly and seemed accommodating to families with pushchairs.
It makes for a delightful, but glitz-free family day out in the centre of London this summer. Expect a warm and lively production to delight young Julia Donaldson fans!
Pictures courtesy of Robin Savage