Mummy-time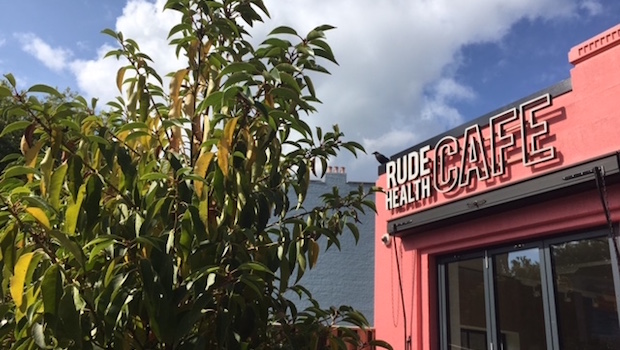 Published on September 21st, 2017 | 637 Views
0
Review: Fulham's Rude Health Cafe for feel-good mummy lunches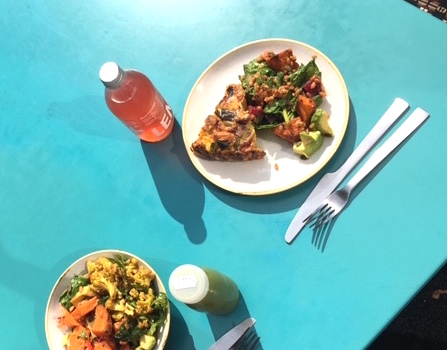 When standing in front of the building it looks like it could have been right at home in a hip California neighbourhood. When looking at the menu the impression doesn't necessarily change.  Rude Health Cafe on New King's Road, which opened in Fulham last year, is one cool spot with a serious flair for nutritious food.
This is the type of place where it feels wrong to order a normal latte–although I still did it. There were five types of lattes on the menu, including beetroot latte and other flavours I had never seen before.
And it's more than the coffees that feel healthy. The focus is on nutrient-dense and natural food, and lunch at Rude Health Cafe brought back memories from a California road trip, where I felt some of the places I loved served food with ingredients that were new to me.
A friend and I were invited to visit Rude Health Cafe and I had a spicy frittata and a salad with avocado and spinach and root vegetables for lunch. The meal tasted great–and made me feel great afterwards.
I also loved that we could sit outside in the sun on one of the communal tables, and a chef was busy preparing the BBQ next to us. There is a meat or chicken and a vegetarian BBQ option every day during the summer months, and the BBQ seemed to be ready from around 12.30 on the day we visited.
Inside the cafe is light and airy, and there are several large communal tables, which made me think that we should go back with a group of friends for a weekend meal.
Rude Health Cafe opens early even on Saturdays (from 8.30am), which makes it a perfect spot for both catching up with friends during the week and enjoying an early family breakfast.
This is a place that I will definitely add to my list of cafes and restaurants I want to visit more often in Fulham. Nutritious and healthy food combined with a relaxed and cool atmosphere is what I need more of this term.