Growing up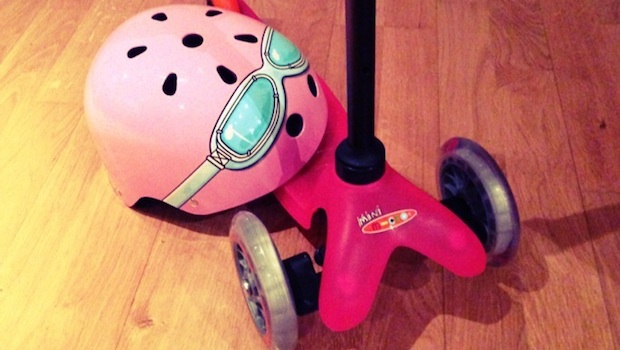 Published on September 22nd, 2014 | 348 Views
2
When it's time to buy the first scooter
Yesterday I was asked when it is suitable to buy little ones their first scooter.
For us it was pretty easy. When Baby Girl was 17-months old, we heard scooters were good for motor skills development and she had enjoyed playing with scooters at nursery.
It didn't take many days before Baby Girl had her own.
There was no way she was going to have to wait until a birthday or Christmas. We ran to Trotters at the first possible opportunity and bought her a Kiddimoto helmet and the 3-in-1 Mini Micro Scooter.
This seemed to be the scooter of choice based on all the scooters we'd seen being parked outside local nurseries and schools in Chelsea and Fulham. I also loved the fact that the scooter came with a chunky O-bar handle in addition to the traditional T-bar one, which could be used when she was a bit older. The T-bar handle seemed too tall for her at the time, and the O-bar one meant she could start practising straight away.
Even if the scooter didn't necessarily help us get quickly from A to B in the beginning, I felt it was the right time for Baby Girl to start practising. She had taken her first steps five months earlier, and she was able to stand on the scooter with one leg and push with the other leg.
Since then, we've also bought the Micro adult-size scooter.
This is London, and scooters are for big and small!