♡ London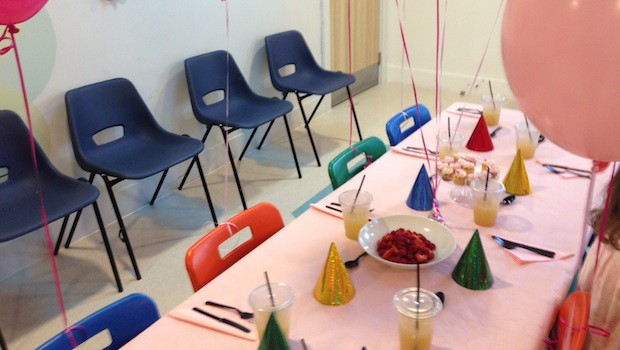 Published on August 30th, 2015 | 546 Views
0
London kids birthday party venues: Harbour Club Chelsea
Two years ago I told Daddy T his birthday present was a private tennis lesson at Harbour Club that day, but when he arrived  in full tennis gear I surprised him by having invited a bunch of friends to celebrate his big day with us.
Daddy T came running into Harbour Club a few minutes after he thought his lesson was meant to have started, and he first looked incredibly confused when he realised he knew everyone in the restaurant. I've never laughed so much on his birthday before and we had a brilliant time.
Since then we've been to several other Harbour Club birthday parties–but only for kids. That's why Harbour Club Chelsea, which boasts a newly refurbished restaurant, creche and reception area, was on my list when I was researching birthday venues this summer:
Harbour Club Chelsea
Family-friendly Harbour Club Chelsea, which is extremely popular among Chelsea and Fulham mums, has a manager dedicated to family activities and several staff focused on kids birthday parties. The club offers members the opportunity to host birthday parties too, with party slots on Saturdays and Sundays from 1.45 – 4pm and 3.45 – 6pm.
Baby Girl went to two birthday parties at Harbour Club before the summer, and both started with guests gathering in the play area in the restaurant after arriving, and then going down to a studio where there were party games led by two Harbour Club staff. Parents can stand on the side in the studio during the entertainment, and it's possible to serve water in the studio, but not other drinks and food.
Drinks and food are served upstairs in an activity room next to the creche, and that room is decorated, with Harbour Club providing party hats, plates, cups, napkins, cutlery and a helium balloon for each child to take home. The party menu options, which can be served buffet style or in boxes, includes two choices of breaded chicken, grilled chicken, cheeseburgers, fish fingers, tomato pasta, sausages or pizza, and all food is served with chips, crisps, popcorn and vegetable sticks followed by ice cream.
A birthday at Harbour Club costs £270 for the room hire and Harbour Club entertainment for up to 20 children, and the party menu is £7 per child. It is also possible to add adult refreshments, and bring in external entertainers and a special birthday cake.