Growing up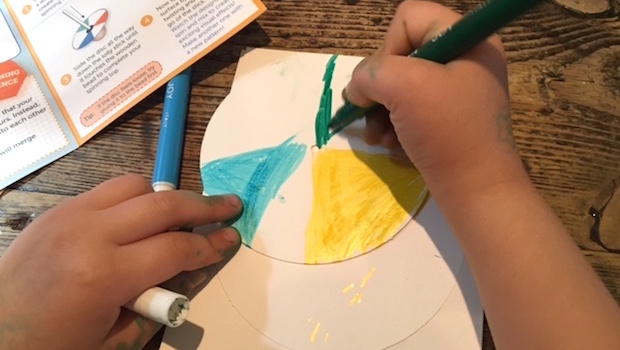 Published on July 14th, 2017 | 432 Views
0
Review: Trunkaroo art and STEM projects for keeping mini Londoners entertained over the summer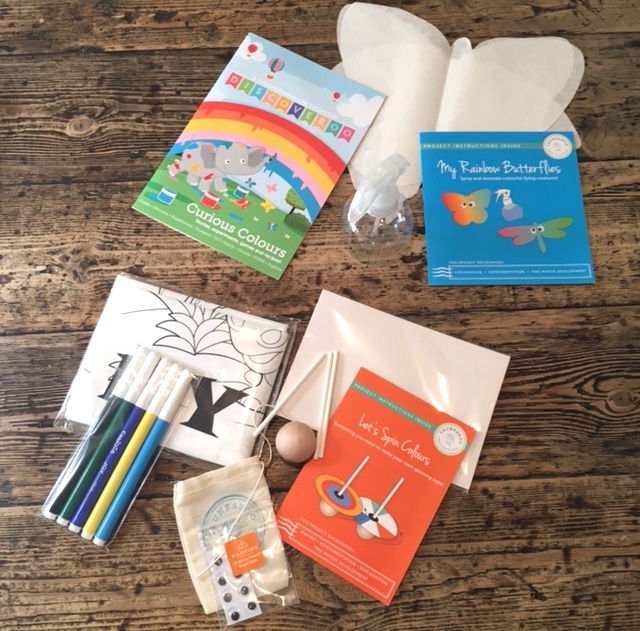 When we ended up starting the summer holiday early today after Big Girl got unwell with a high temperature, I couldn't believe my luck when we opened an exciting 'Mixing Colours Trunk' with creative projects from Trunkaroo to review.
I felt completely unprepared for the holiday and soon realised we would do well with some more at-home activities on standby. The box we received from Trunkaroo, a local London company started by a Harvard Business School alumni, was spot on for keeping the children entertained in the afternoon with activities that were both fun and unique.
Trunkaroo delivers boxes with two art and STEM (Science, Technology Engineering, Art and Math) projects designed for children aged three to eight and a bonus magazine with more activities. The business stands out in my view as it was set up to make STEM interesting and magical for children, making learning fun through experimental projects.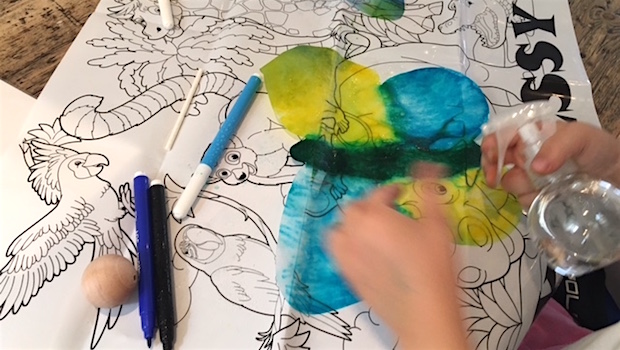 I often have little art kits at home to keep Big Girl and friends entertained, but the Trunkaroo projects we were doing today differed from these because there was also an educational angle, which were explained in the set. It was not just about colouring in, for example, it was about exploring the patterns and blending of colours in different ways.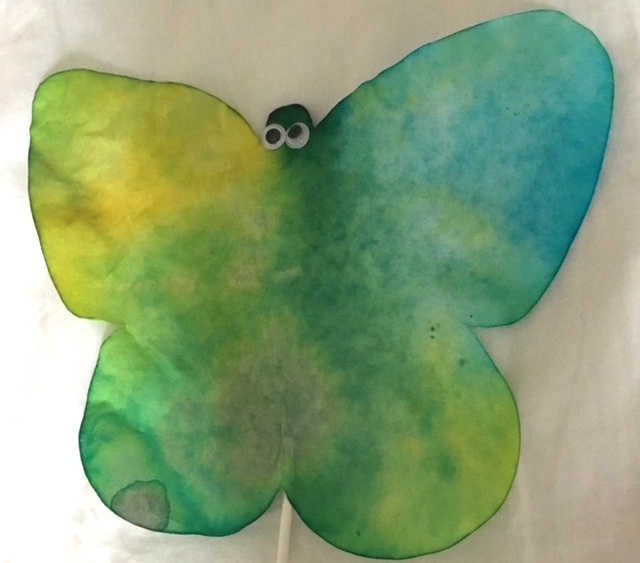 Four-year-old Big Girl first started colouring butterflies with washable markers that came in the set, and after finishing the colouring, she used a water spray that was also included to soak them in water. She watched how the colours mixed and patterns changed, and after the butterfly had dried she stuck googly eyes on.  She was so happy with the result that this butterfly is now packed and ready to come on our next holiday abroad.
I liked that there were four shapes in the box, making it easy for siblings to have a try or friends to do the project together, and the spray was a popular feature–innovative and different from standard art kits.
The next project was to colour in spinners, and the guide suggested different patterns that could make for good spinner designs. The set came with sticks and a wooden bead, which meant the children could create a toy to play with.
Big Girl completed both projects independently, experimenting with the colours and water and spinner and patterns without me interfering in her work. Trunkaroo had most definitely succeeded in not only sparking her curiosity but also in identifying fun experiments that appealed to the age group. She spent her afternoon working away on these projects – and I'm thrilled there are still more butterflies to do tomorrow.
The perfect summer holiday companion!
Trunkaroo designs delightful and enriching hands-on projects for 3-8 year olds and delivers them through a monthly subscription, or as one-off trunks. Each trunk encourages art and science exploration, explores STEM topics, is gender-neutral, tested by real kids and approved by developmental experts. Single trunks are £20 each, and subscriptions start from £16.99 per month (12-month subscription).