♡ London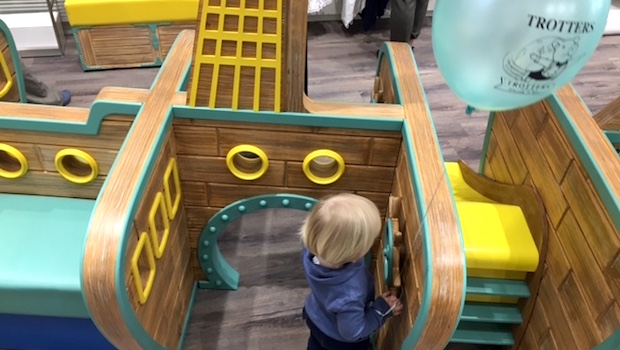 Published on January 25th, 2018 | 249 Views
0
3 things to do with kids in London on a winter weekend
1. Trotters store event with Sharky & George
On Sunday 28 January and Sunday 2 February children's clothes, toys and shoe shop Trotters on High Street Kensington is hosting family events with entertainment by popular children's party entertainers Sharky & George. Children can take part in traditional party games and themed craft sessions in store run by Sharky & George entertainers and recommend for children aged 3 to 8. There will be 30-minute long sessions between 10am and noon available on a first come, first served basis and parents must remain the shop for the duration of the sessions. Trotters–which I've collaborated with–also has a fun mini slide and pirate-themed shoe section, which I've noticed has been a hit with the youngest visitors when we've been for shoe shopping and hair cuts (see picture above).
2. Winnie-the-Pooh: Exploring a Classic at V&A
Friends have recommended me to visit the V&A, which is usually not on my radar since we have young children, but I've been advised that the current multi-sensory Winnie-the-Pooh: Exploring a Classic exhibition open until 8 April can be fun for children. The exhibition dedicated to the much-loved bear features sketches, cartoons, ceramics, fashion and more, and it is now on my list of things to book!
3. Family activities at National Gallery
I've also been recommended to visit the National Gallery on a Sunday when they run Magic Carpet storytelling sessions for families with under 5s. They pretend to fly away on a magic carpet and land in front of a different painting each time. The 30-minute sessions are free to attend and take place at 10.30am and 11.30am on Sundays. There are also regular drawing workshops for children aged 5 to 11 at National Gallery on alternate Sundays, and the next one will be on Sunday 4 February from 11am to 12.30pm or 2pm to 3.30pm. In the workshops, children learn how National Gallery paintings can be used as inspiration, and places are available on a first come, first served basis. Children must be accompanied by an adult.